Seeking to expand the definition of architecture to include electronic space, he originated the concept of "liquid architectures in cyberspace" and the study of a dematerialized architecture for the new, virtual public domain.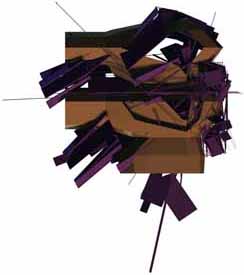 Novak is the founding director of the Laboratory For Immersive Virtual Environments and the Advanced Design Research Program at the School of Architecture at the University of Texas at Austin. His writings have appeared in numerous books and journals and have been translated into several languages. Interviews and documentaries on his work have appeared in several countries on CNN, PBS, BBC, NHK on television and radio. He lectures and exhibits internationally.
See Novak's own web site.
An algorithmic composition derived from manipulations of data fields, curved space, and fourth-dimensional geometries.Large size (20K).