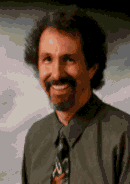 Presidential Chair in Music & Interactive Arts; Associate Dean for Technology, Curricular Innovation, and Research in the School of the Arts and Architecture; Director, Center for the Digital Arts. Ph.D. and M.A., History and Theory of Music, University of Chicago; M.F.A., Piano, State University of New York at Buffalo; B.A., Brown University.
In the first fifteen years of his career, scholar/pianist/multimedia artist Robert Winter authored, co-authored, or edited four major books on Beethoven, as well as a large number of articles on compositional process, performance practice, analysis, and Schubert style and chronology. He was a founding editor of the award-winning journal Nineteenth-Century Music. As one of UCLA's most dynamic teachers, his live music programs for UCLA Extension were broadcast nationally over American Public Radio. In 1989 he was invited by The Voyager Company to create the first commercial CD-ROM title - an exploration of Beethoven's Ninth Symphony. Its publication aroused considerable interest and praise in the national press. Between 1990 and 1996 the Beethoven program was augmented by four more increasingly ambitious programs (explorations of Igor Stravinsky's The Rite of Spring; Mozart's "Dissonant" Quartet, Antonin Dvorak's "New World" Symphony, and the Calliope title Robert Winter's Crazy for Ragtime, also available from Educorp).
Winter has become an articulate international spokesperson for the role of content and the arts in a digital world. He has been a featured or keynote speaker/performer at many professional conferences, including the Microsoft CD-ROM Conference, Digital World, Stuart Alsop's Agenda '90, the TED Conference, the UCLA Multimedia Roundtable, the Japanese National Audio-Visual Conference in Tokyo, MacWorld Expos in the United States and Mexico, Milia (Cannes, France), Intermedia (San Francisco), the Governor's Conference on the Arts & Technology (Santa Clara), Chamber Music America, and the Ziff Institute. He also recorded a live video music series for RCA Victor that was launched in February 1995.
Robert Winter has lectured and performed on a variety of topics all over the United States, Canada, Mexico, Japan, and Europe. His performances and digital publications have been lauded in many print outlets, including the New York Times, Wall Street Journal, Newsweek Magazine, U.S. News & World Report, Publisher's Weekly, Entertainment Weekly, People Magazine, and The Times of London. Winter is the recipient of numerous awards and prizes, including a 1983 Guggenheim Fellowship and the 1985 Kindeldey Award from the American Musicological Society for the best scholarly book on music. In 1994 he received a Multimedia Pioneer Award from the Intermedia Festival in San Jose, California. He served as Acting Chair of the UCLA Music Department from 1992-93. In 1996 UCLA appointed him to the Presidential Chair in Music & Interactive Arts - the first chair of its kind in the School of the Arts and Architecture.